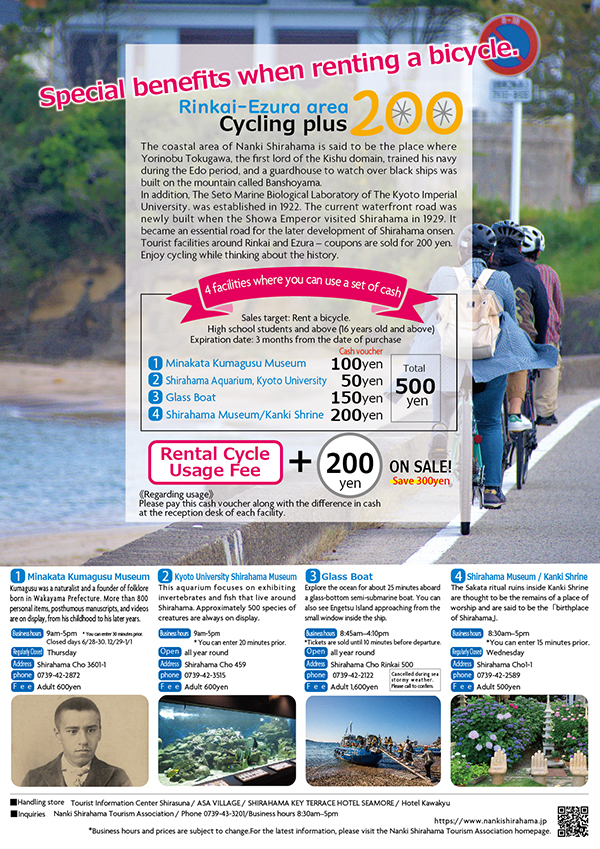 The coastal area of Nanki Shirahama is said to be the place where Yorinobu Tokugawa, the first lord of the Kishu domain, trained his navy during the Edo period, and a guardhouse to watch over black ships was built on the mountain called Banshoyama.
In addition, The Seto Marine Biological Laboratory of The Kyoto Imperial University. was established in 1922. The current waterfront road was newly built when the Showa Emperor visited Shirahama in 1929. It became an essential road for the later development of Shirahama onsen.
Tourist facilities around Rinkai and Ezura – coupons are sold for 200 yen.
Enjoy cycling while thinking about the history.
| | |
| --- | --- |
| 1.Minakata Kumagusu Museum | cash voucher 100 yen |
| 2.Shirahama Aquarium, Kyoto University | cash voucher  50 yen |
| 3.Glass Boat | cash voucher 150 yen |
| 4.Shirahama Museum/Kanki Shrine | cash voucher 200 yen |
| | Total 500 yen |
Rental Cycle Usage Fee + 200 yen ON SALE! Save 300yen
(Regarding usage)
Please pay this cash voucher along with the difference in cash at the reception desk of each facility.
1⃣ Minakata Kumagusu Museum
Kumagusu was a naturalist and a founder of folklore born in Wakayama Prefecture. More than 800 personal items, posthumous manuscripts, and videos are on display, from his childhood to his later years.
Business hours 9am-5pm * You can enter 30 minutes prior.
Closed days 6/28~30. 12/29~1/1
Regularly Closed Thursday      Address Shirahama Cho 3601-1
Phone. 0739-42-2872
Fee  Adult 600yen
2⃣ Kyoto University Shirahama Museum
This aquarium focuses on exhibiting invertebrates and fish that live around Shirahama. Approximately 500 species of creatures are always on display.
Business hours  9am-5pm * You can enter 20 minutes prior.
Open all year round   Address Shirahama Cho 459
Phone. 0739-42-3515
Fee  Adult 600yen
3⃣ Glass Boat
Explore the ocean for about 25 minutes aboard a glass-bottom semi-submarine boat. You can also see Engetsu Island approaching from the small window inside the ship.
Business hours 8:45am – 4:10pm
*Tickets are sold until 10 minutes before departure.
*Cancelled during sea stormy weather. Please call to confirm.
Open all year round Address Shirahama Cho Rinkai 500
Phone. 0739-42-2122
Fee Adult 1,600yen  
4⃣ Shirahama Museum / Kanki Shrine
The Sakata ritual ruins inside Kanki Shrine are thought to be the remains of a place of worship and are said to be the「birthplace of Shirahama」.
Businesss hours 8:30am – 5pm * You can enter 15 minutes prior.
Regularly Closed Wednesday Address Shirahama Cho1-1
Phone. 0739-42-2589
Fee Adult 500yen
■Handling store
Tourist Information Center Shirasuna / ASA VILLAGE / SHIRAHAMA KEY TERRACE HOTEL SEAMORE / TORE TORE VILLAGE / Hotel Kawakyu
■Inquiries
Nanki Shirahama Tourism Association
Phone. 0739-43-3201
(Weekdays 8:30 am-5pm)